HR's relationship with paperwork has always been rocky – whether it be employment contracts, offer letters or disciplinary matters, the need for documentation is at the crux of HR process as it stands.
But mounting paperwork can also make it difficult to focus on the things that matter: developing and retaining talent, and building a winning culture that drives business forward and generates profit.
One of the main requirements of most business and HR agreements involve signatures, but this creates many challenges for HR, especially in a world where remote working has become prevalent, and in some industries, the norm. For employees working from home with no easy access to a printer or scanner, asking for a required document signature proves a difficult, lengthy or even impossible task. That's why we've been developing new capability within Youmanage – the ability to e-sign documents with our new e-Signatures feature.
This release will take place in three phases:
Phase 1: Employee Documents. At this stage, you will be able to add e-Signatures to employee documents within Youmanage. (Now Available)
Phase 2: Company Documents. In phase 2, e-Signatures will additionally be available to add to company-wide documents.
Phase 3: Embedded Workflow Documents. The final phase will allow e-Signatures to be added during any of the workflow processes you may be undertaking within the Youmanage system.
Cost and efficiency savings of HR e-Signatures: The stats
The time spent on signing documents, when using e-Signatures, is reduced from an average of 5 days with traditional methods to an average of 37 minutes. (LunarPen, 2020)
Document turnaround time is reduced by an average of 80%, with 22,000 hours saved annually. (Forrester, 2017)
Among financial institutions, e-Signature reduces scanning errors by 92%. (OneSpan)
An e-Signature software solution can save as much as 2.5 billion trees in less than 20 years. (DocuSign, 2020)
The legal stuff
Not many HR tech users are aware that e-Signatures aren't automatically legally binding. It's easy to assume that those HR tech platforms with some form of signing capability will be recognised as legal signatures in the eyes of the law, but that's not actually the case. Here are the legal requirements of an e-Signatures solution to ensure that the signature is binding:
Intent to sign. The signature is only considered legal if it has been signed with intent and the clauses are fully transparent. Within Youmanage, a user must clearly consent to the terms of service to sign a document, which includes an intent to sign clause.
Consent to sign electronically. Not only does there need to be a clear intent to sign demonstrated, but also consent to sign electronically. This is also covered within the Youmanage terms of service, ensuring that your users are fully aware they are signing electronically and giving the required level of consent.
Digital audit trail. A timestamp, email and IP address must be available and tracked to prove that the signature was given by the correct person, at the exact same time. Youmanage can provide all this information from the system on request.
Security of signature. The documents must be stored in a secure environment, protected from any web risks. A cloud HR platform like Youmanage is encrypted end-to-end, ensuring the security of your signed documents.
Document retention. Documents must be stored and kept to be reproduced when required. Youmanage allows you to access these signed documents whenever you need them, from any device – but only those who have the correct access permissions.
Opt-out option. There must be a clear opt out option available to users where they can choose to opt out of e-Signatures and sign documents by hand instead. Youmanage's eSig functionality allows users to 'decline to sign', therefore opting out of an electronic signature option.
e-Signatures within Youmanage allows documents to be virtually signed by employees and line managers alike, generating an authentic signature that complies with employment regulations and safeguards you and your business. You'll also be able to save yourself time by creating letter templates that pull information through automatically, streamlining process. And, you can rest assured that all documentation is being stored in an ultra-secure cloud environment, accessible only by those that have a need to view, edit, read or sign.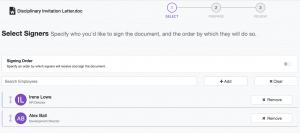 No other HR software has e-Signatures built-in to the same level as Youmanage. Oftentimes external providers like DocuSign must be additionally paid for and integrated with other HR systems, adding further overhead costs to your business and taking up precious hours of the working day. With Youmanage, all the signature functionality you need is built-in – saving you time and money.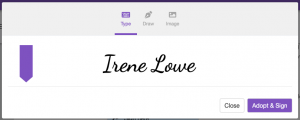 Benefits for HR
Get contracts signed off and agreements completed in under a day, instead of weeks.
Ensure best practice is being undertaken on every level of business, rather than settling for an HR tool that doesn't provide the ability to fully comply with employment law requiring employee signatures.
Reduce the hassle for both your HR team and employees by removing the need to sift through lost documents or locate a suitable scanner.
Increase organisation and efficiency of your business.
Stay updated through the entire process from start to finish with notifications and tasks.

Key Features
Upload a document and specify whether or not the document requires a signature. Each of the employees who the user defines has access to this file will be asked to sign the document.
Combine e-Signatures with document templates. Reduce the time spent manually creating individual employment contracts and offer letters by creating signable templates that can be repurposed across the business.
Add multiple signatories to documents. Where more than one signature is required, i.e. employees and line managers, you can require multiple signatories on any document or letter. Store all documentation in a secure cloud environment. Our ultra-secure HR system means your employee data and documentation is fully encypted and protected.
Enable read-receipts. Ensure employees' responses to important documents are mandatory.
Design your documentation however you like. Our intuitive drag-and-drop document builder allows you to choose where the document should be signed.
With e-Signatures phase 1 currently in test, you can be sure to see the new feature appear in your Youmanage system very soon! If you're new to Youmanage and would like to find out more, take out a free 30-day trial of the system, or request a free online demo with one of our team specialists who will guide you through the key features of the software based on your specific requirements.