An easy-to-use disciplinary & grievance management system
Disciplinary & grievance issues may occur infrequently, but when they do, they can have highly damaging consequences if not handled effectively. As well as the potential cost of a negative tribunal award, there is also the cost of management time spent responding to a Tribunal claim, the damage to a Company's reputation and the negative impact on staff morale and motivation, all of which should be avoided.
Even where issues do not result in an Employment Tribunal, poor handling of performance or disciplinary problems or employee grievances can have a significant cost to the organisation in terms of increased staff turnover, loss of employee motivation and focus and even malicious actions on the part of employees which can damage an organisation's clients and its reputations.
With our Discipline & Grievance module, you can be sure that you're approaching all issues with the confidence that they will be handled effectively and compliantly.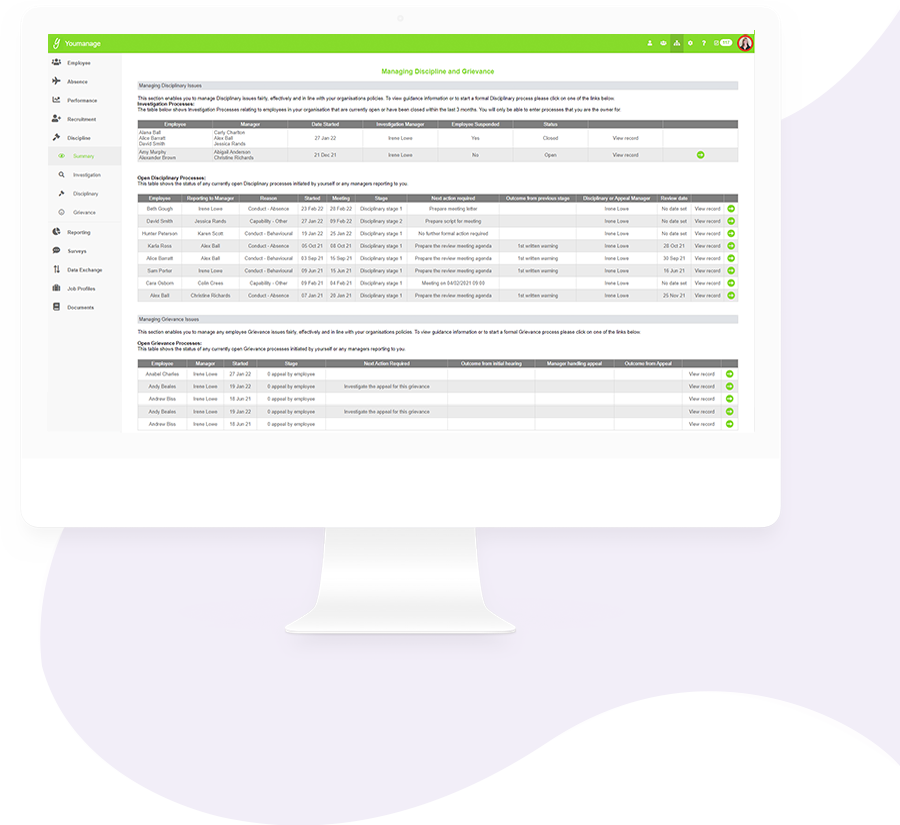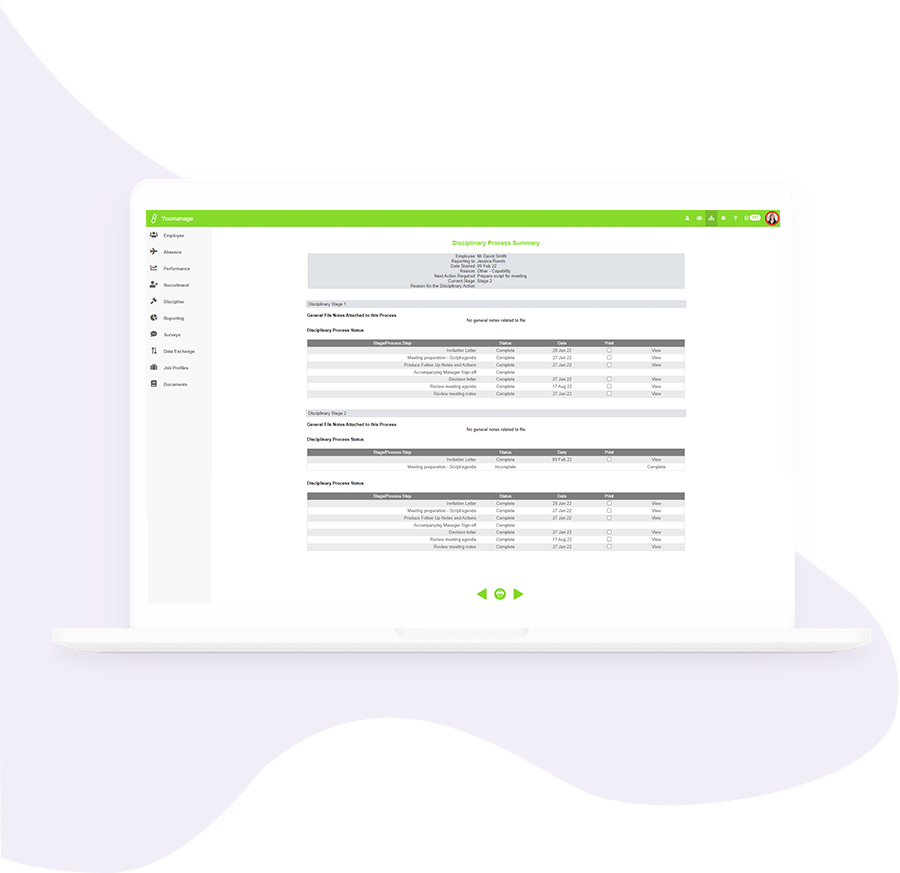 A guided employer disciplinary system
Youmanage provides employers and HR professionals with easy-to-follow, step-by-step processes for handling disciplinary and grievance issues. With expert advice and guidance provided to users at every stage of the disciplinary process, our system makes it easier for management and HR teams to handle situations correctly, confidently and with minimum hassle.
Disciplinary templates to make the process simple
We offer a full set of pre-populated disciplinary and grievance letter templates that are fully editable to meet your own requirements. On top of this, all meeting dates, letters and notes are recorded and tracked on the system, providing a full audit trail in the event of an employment tribunal situation. 
To guarantee that a consistent approach is being taken, managers can access and print off meeting templates for disciplinary hearings. These templates include a suggested agenda and guidance notes to ensure all disciplinaries are dealt with in a consistent manner.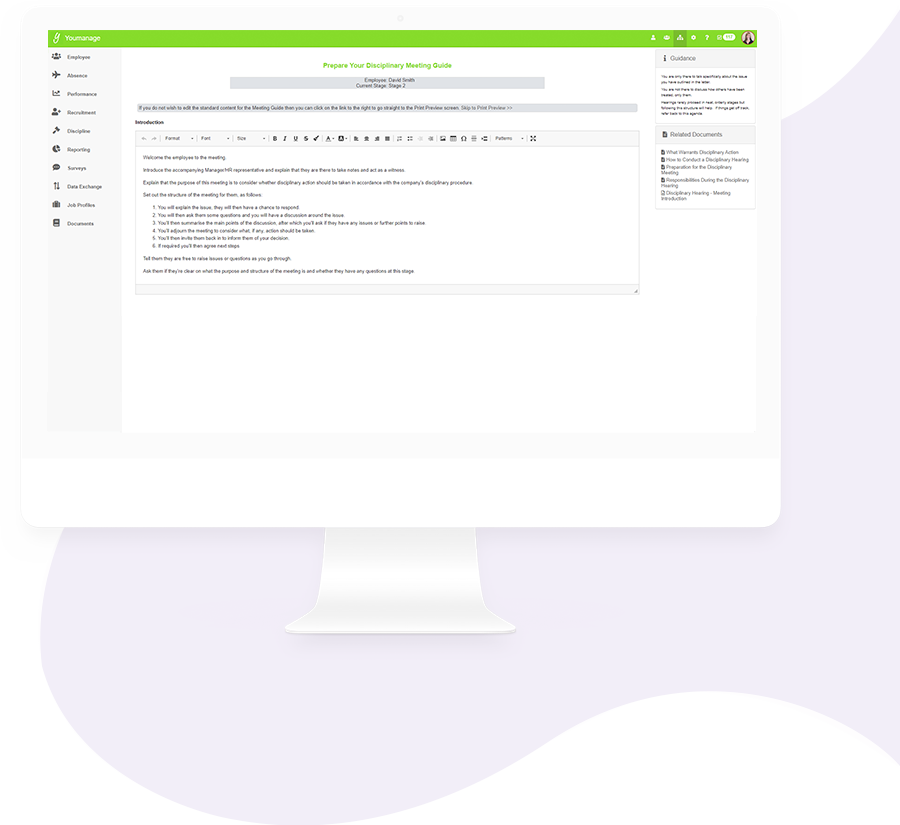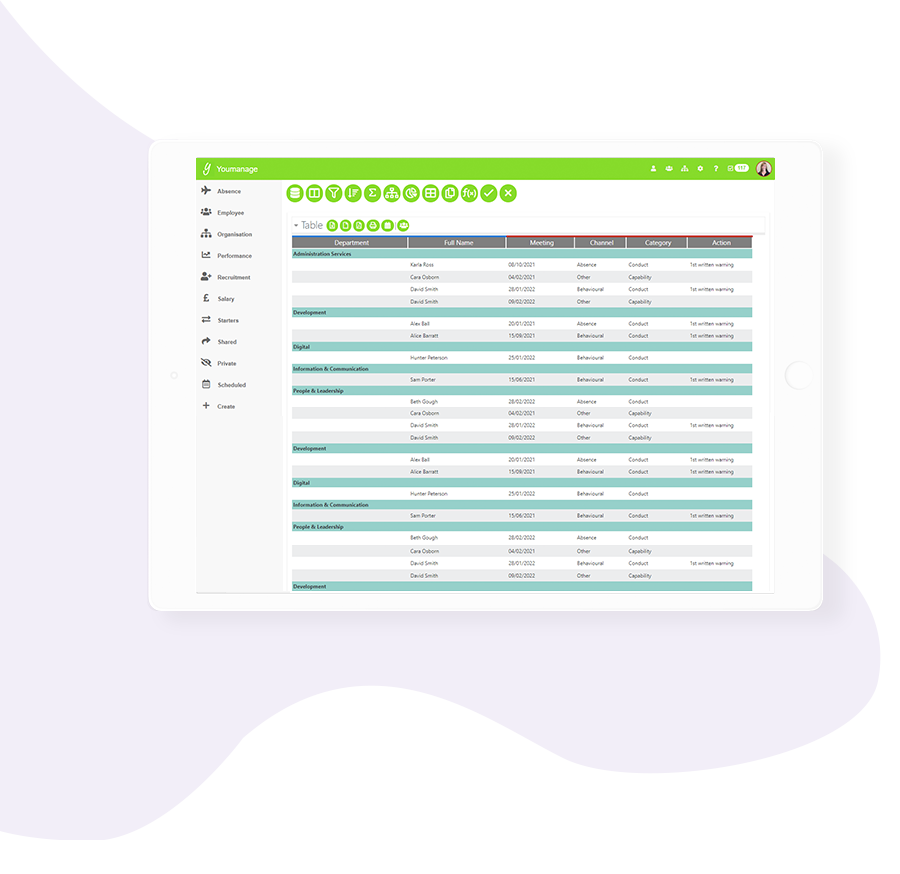 Simplifying the post-disciplinary process
The Youmanage Disciplinary & Grievance module allows the findings of disciplinary investigations and ad-hoc issues to be easily recorded, providing a sound basis for later action if required. With any investigation, it's important to be aware of the processes you need to take at a later date, so our module ensures that managers receive automatic reminders of key dates and actions. Follow-up meetings can also be organised through the modules, ensuring that any agreed actions are being met, if not, we can automatically move the employee to the next stage of the process.
Of course, the power is in your hands, meaning that accompanying managers can sign off on the meetings, ensuring that nothing has been overlooked. Senior managers and your HR staff can also easily view summary metrics or drill down into the details of each investigation to get a deeper insight into the outcomes. Plus, reporting is available that gives you an insight into specific problem areas, breaking everything down into departments, categories and more.
An adaptable and configurable disciplinary and grievance system
All Youmanage modules are highly configurable, so that you can ensure that specific categories, channels and associated templates are at your fingertips when you need them. You can also set your own suspension periods, ensuring that investigations are carried out within a reasonable timeframe. 
By keeping the data in one place, we give our users the ability to seamlessly move from investigation to disciplinary, without losing any information. Of course, when the data is no longer needed after employees have left the organisation, we can automatically delete all Discipline & Grievance actions after a specified time period.