An easy-to-use online absence management system
Unchecked absenteeism can have a significant impact on the productivity and performance of an organisation. Not only do the lost days cost a business, but absences also have a negative impact on customer service, the delays in project timescales, and the damaging effect on staff morale that results from some people being perceived to be 'getting away with it'. 
Despite the importance of having a system to manage absences, many organisations have no understanding of what absenteeism costs them as they have no fully-effective system for recording or managing multiple absence types and neither do they have a robust and feature-rich way of reporting it.
That's where our Absence & Holidays module comes in. Our leave of absence monitoring system offers a range of features essential to the effective absence management of any business.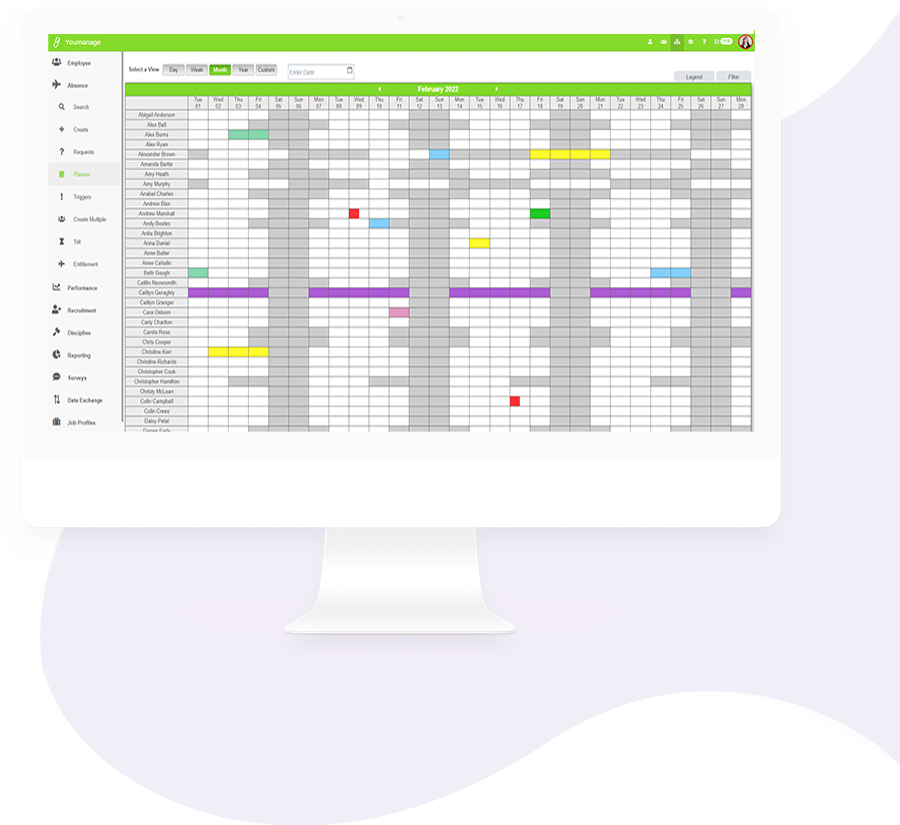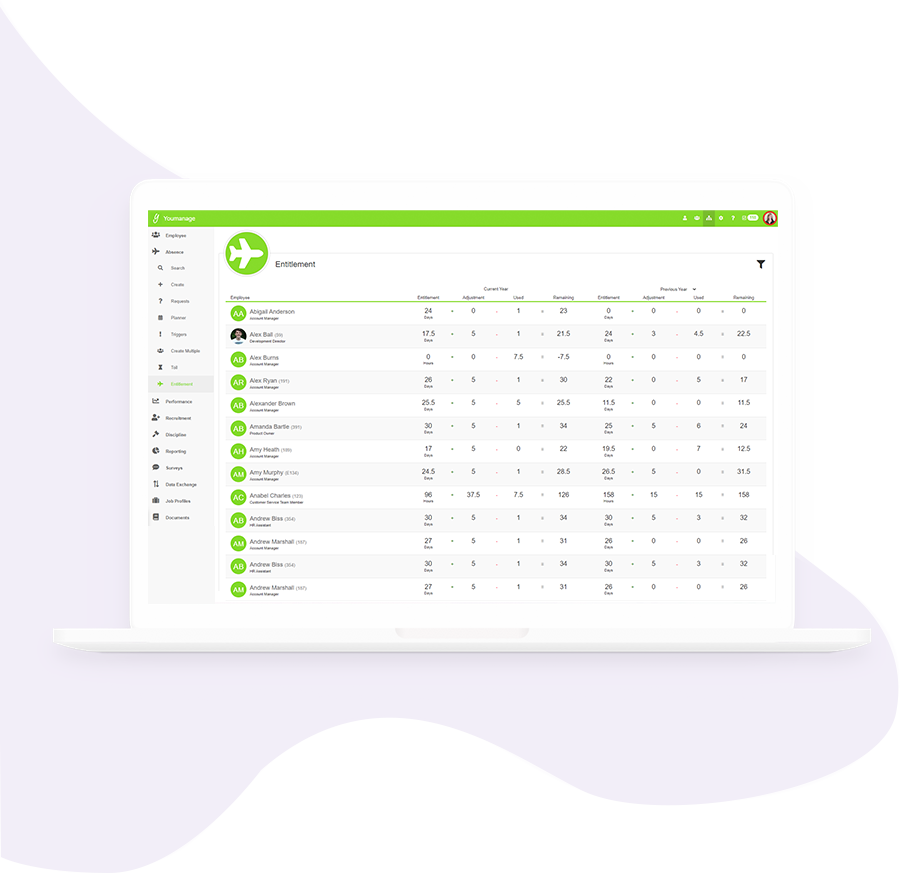 Annual leave entitlement with our absence management system
Our absence management system comes equipped with a range of useful features. Our working calendars are used to automatically calculate an employee's full time equivalent, which is used in the pro-rating of entitlement. The calendars are able to adapt and change to meet your requirements, and if an employee changes their working pattern during the year, Youmanage can automatically pro-rate the holiday entitlement.
You can also set up multiple entitlement profiles on the system, establishing the different rules used to calculate annual leave entitlement. Everything can be adjusted to fit the needs of your organisation with options as to whether you'd like to calculate entitlement in days or hours. You'll also be able to create multiple entitlement years for employees whose entitlement year may start on different dates.
Sickness absence entitlement with our absence management system
Multiple sick pay schemes can be configured to monitor when an employee takes a preset number of days to calculate when they should be moved onto SSP. These schemes can also be modified by incorporating length of service rules to ensure employees with longer service are given additional allowances.
Our graphical absence planner makes it easy to see who is off and when, displaying patterns of absence for individuals within the employee view. We also calculate Bradford Factor by default, and users can define multiple absence triggers to monitor absence levels through Bradford Factor, number of sickness days and more.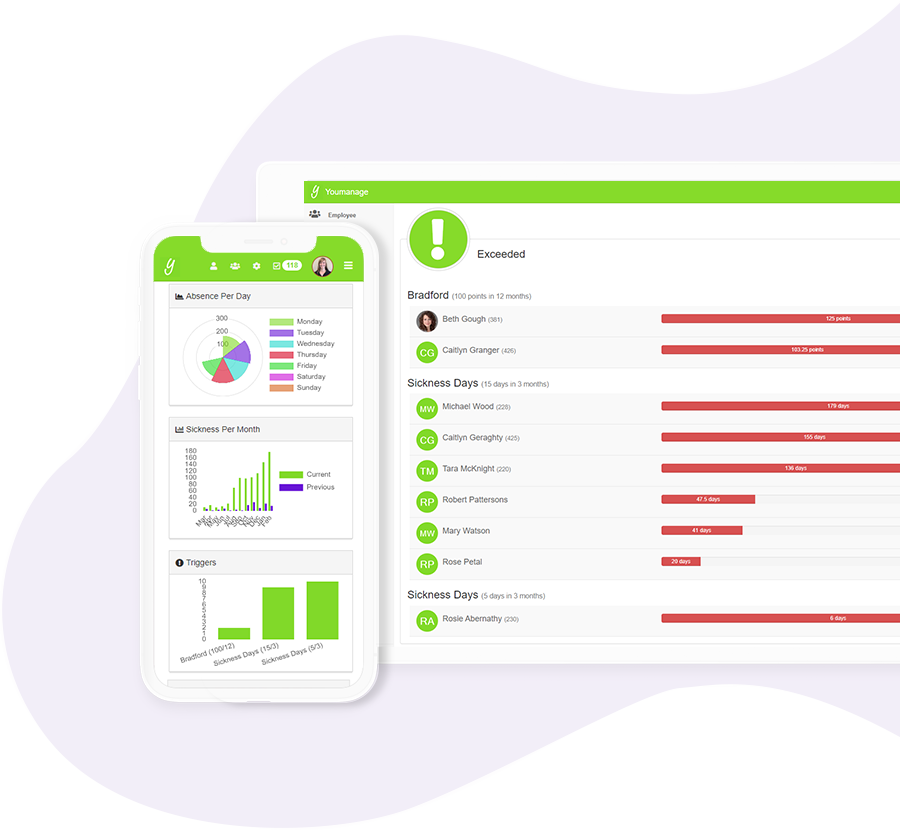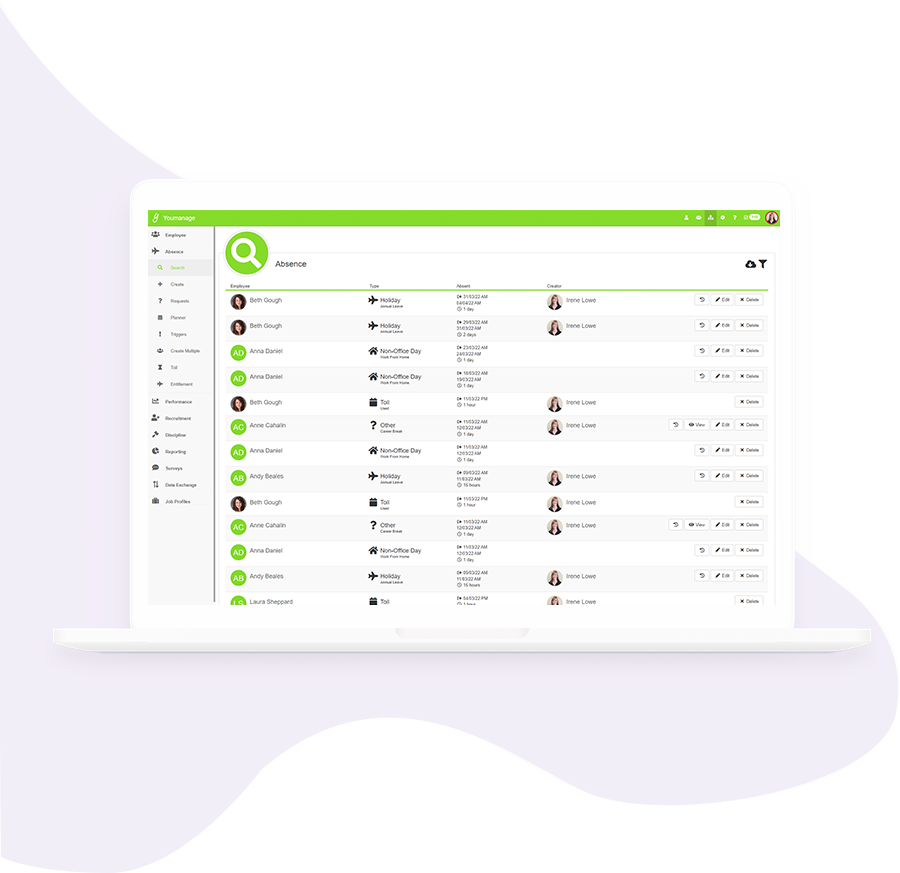 Our absence management software makes admin easier
At each stage of the absence process, we give users in-app guidance to make it easier to see the necessary information. When combined with a fully configurable list of reasons to define specific causes of absence, this ensures that our absence management system is as straightforward as possible.
You can also set permissions so that only those authorised can cancel and amend absences, with a fully configurable set up that gives different employees specific permissions. You can also use our system to automatically generate reports that highlight problem areas and show trends in absences.
The perfect absence management system for employees working irregular hours
When employees don't have set hours, it can be difficult to manually work out holiday accrual and entitlement. We make it easy, by allowing you to submit timesheets into our system to provide accurate results. You can also easily record time off in lieu for each employee, while also offering negative time off in lieu to allow employees to take time off to be made up at a later date.
We also give you an easy way to calculate and record overtime worked to capture any payments due to an employee. When timesheets are used, any hours submitted over the contracted hours can be transferred to a time off in lieu balance which the employees themselves can request via self-service.