An effective performance management system
Effective Performance Management processes are a key part of creating a high-performing organisation. Yet often 'performance management' is a once-a-year event rather than a continuous process. Objectives & Development Plans are written up on paper forms, filed in a drawer, and forgotten about until the next review comes around. 
Youmanage's Performance & Development module can help organisations build a high performing culture; where employees work to clearly defined objectives, where each employee's potential is recognised and maximised, and where the whole organisation is aligned behind a consistent set of goals. We can also help to simplify the administration of review processes and improve the management of employee performance information.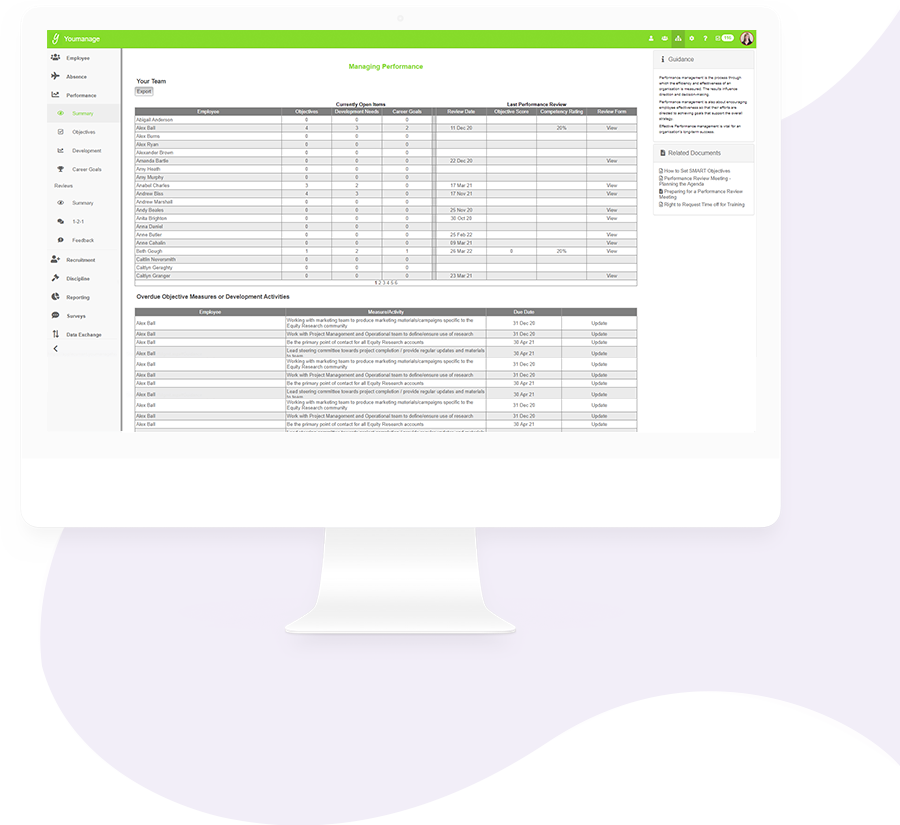 The four ways our software helps manage performance
✔

Managing Employee Development
✔

Managing Performance Reviews
Management by objectives is one of the core methods used to help manage your workforce through our wider performance management system.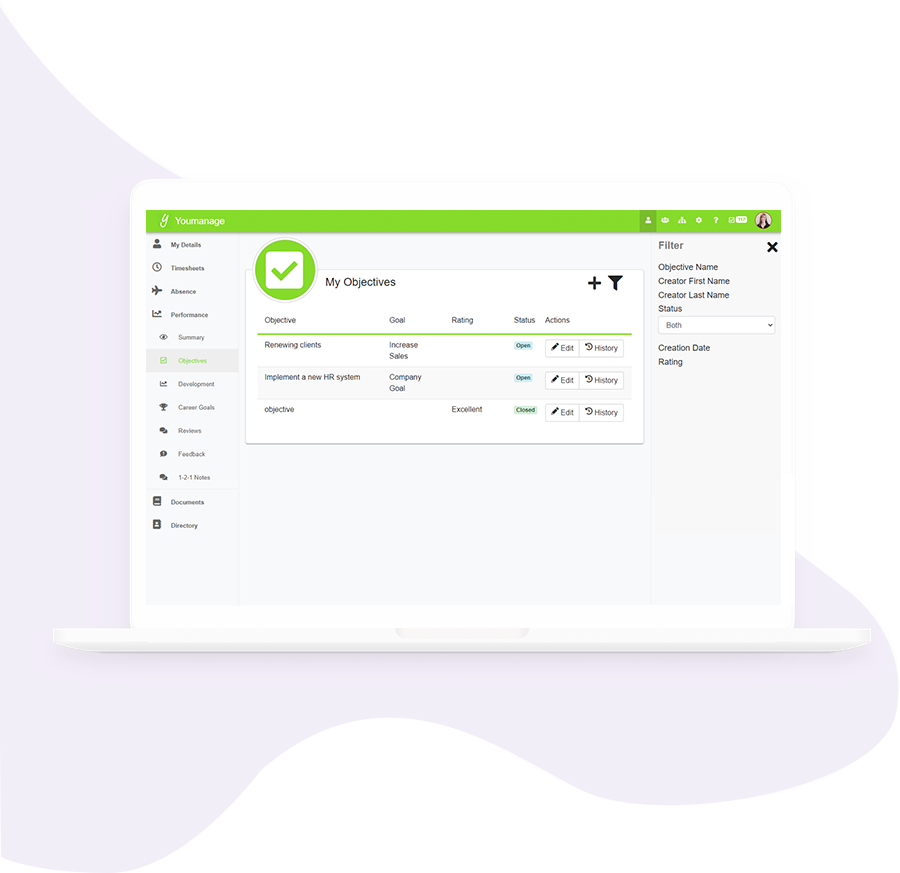 With the software, managers can set up, track, and update objectives for their team members on an ongoing basis. Each objective consists of a description, one or more measurable criteria, a target completion date for each measure and a completion rating to record progress against the target in percentage terms.
The Youmanage project management system gives managers the tools to create and define objectives for all employees fitting a single job profile, and can choose to receive email updates and reminders of completion dates and summaries. Comments can also be added by the manager or employee at any time in relation to the objectives.
Managing Employee Development
Accurate employee development plans
Managers can set up, track, and update development plans for their team members on an ongoing basis, with each development plan entry may consist of a 'Development Need', one or more 'Development Activities' and a target completion date. Managers can then add comments to the plan at any time, while also receiving email reminders of completion dates and a summary of overdue or imminent activities.
For longer term development, managers can also set up, track and update career goals for their team members. If competencies have been defined for an employee's role, the manager will be able to view these in a list, along with the level required for the job role. All of these development planning features are collated into a summary table viewable by managers that show all set development and career goals, these can be filtered by employee, status, completion date and completion rating.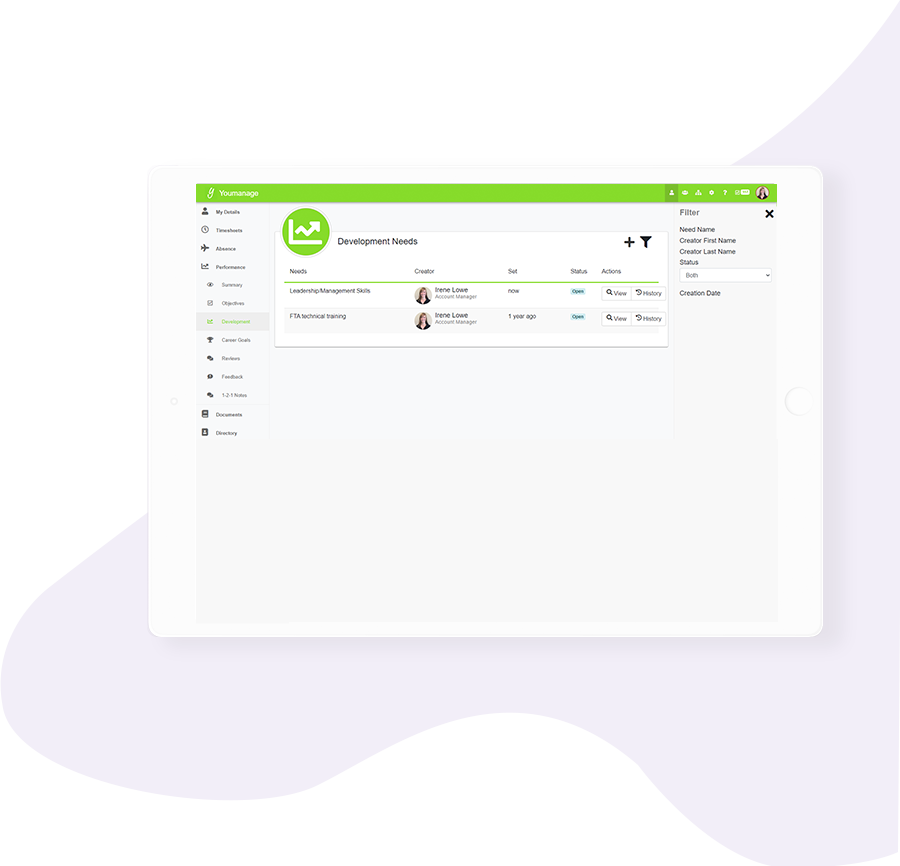 Performance Review Management System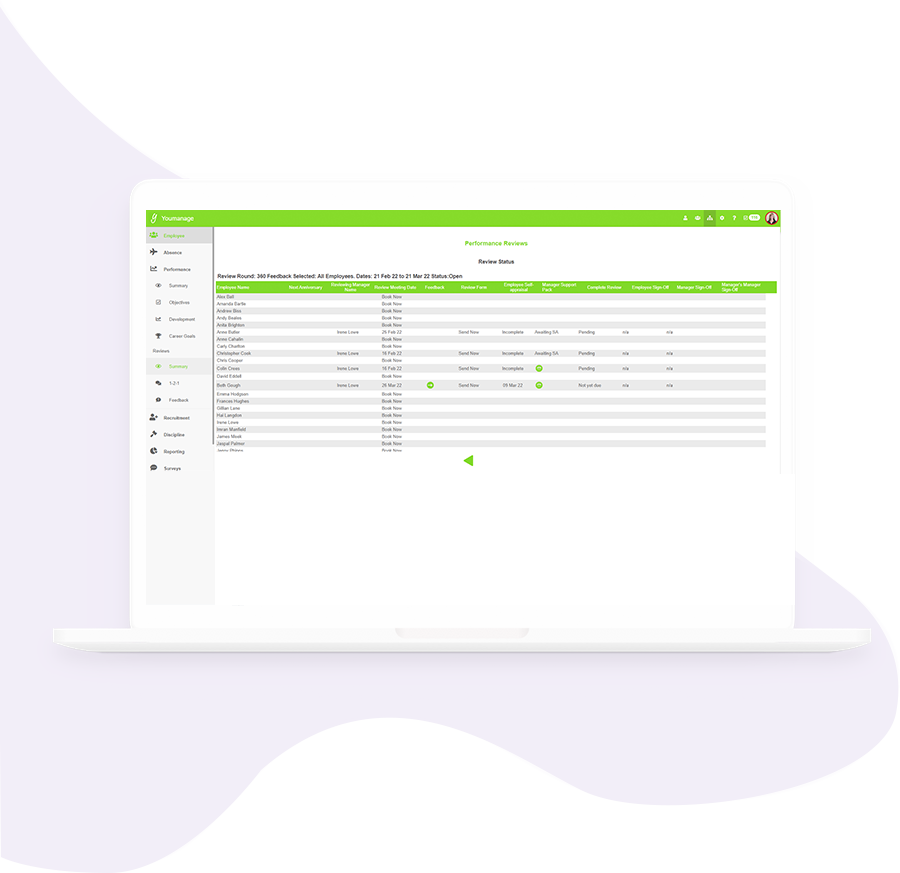 Client administrators can set up review rounds for their organisation, defining which groups are to be included, the period to be reviewed and the period in which the review should be completed. Multiple review form templates can be used in the review forms, again administrators can customise these templates by defining the elements to be included, the the rating scale to be used and the necessary custom fields. 
All reviews can be easily tracked, with managers being alerted via email and on their homepage when performance reviews are required. When booking a review, managers will be able to print off manager support packs that include details of any previous updates and comments on individual review items.
Managers can easily record the output from their review meetings on the system, and the output can include review comments against each item, updates to the individual items, changing the status of an item to closed, and adding a new objective or development need.
Once complete, managers can close and sign-off a review online and if employee and/ or senior manager sign-off has been defined as part of the process for that Review Round, the manager can submit the completed reviews for sign-off. The employee and/or senior manager will be alerted by email if signoff is required and they can view the completed Review Form via a secure link, add their comments, and sign-off the review electronically.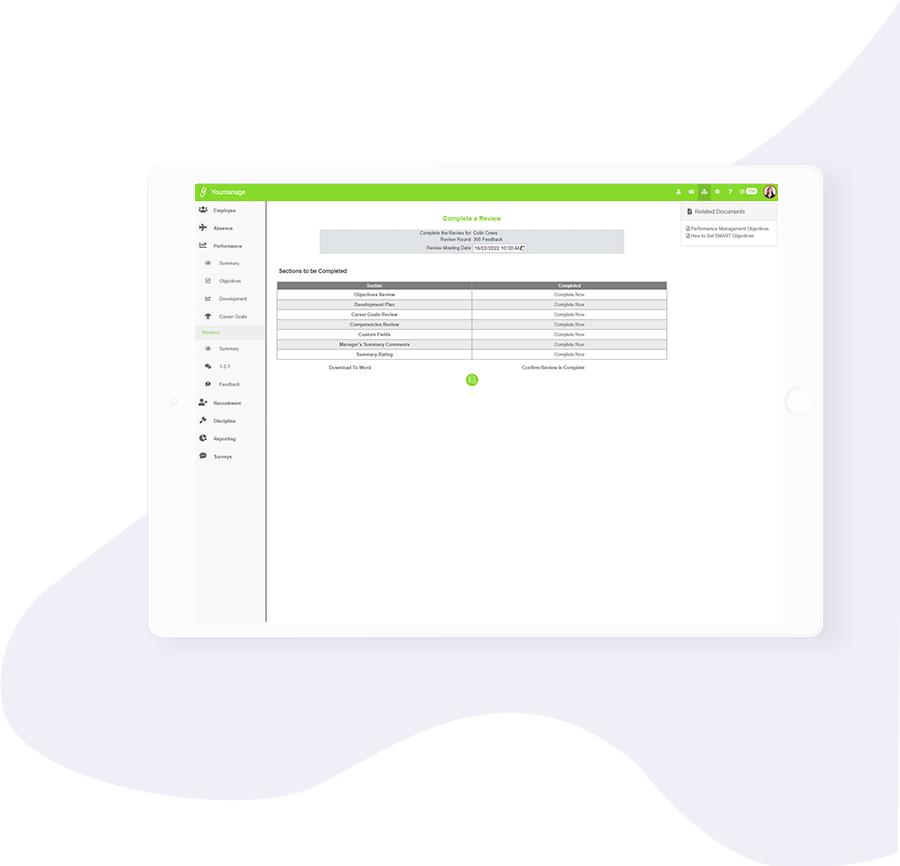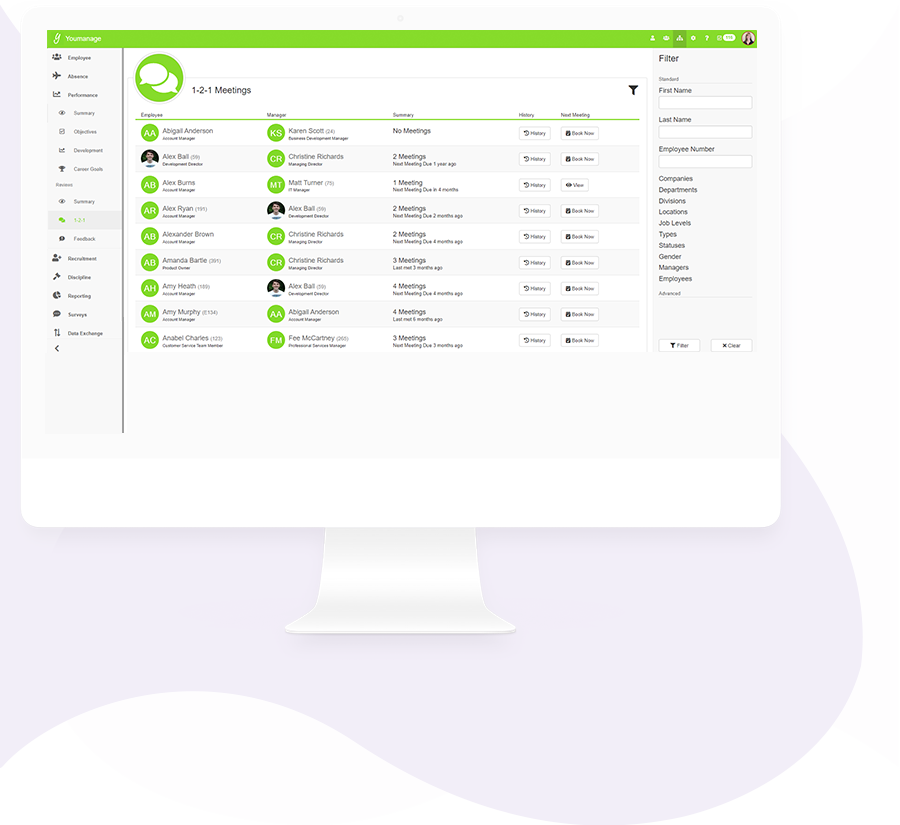 1-2-1 performance management software
Employees can access 1-2-1 notes following meetings for full visibility, which enhances transparency between employees and managers, resulting in better employee engagement and greater trust. Managers can record the dates of these 1-2-1 meetings with their team members and can send email notifications to employees, notifying them of the meeting dates.
Managers can easily prepare for 1-2-1 meetings by producing and printing 1-2-1 note sheets – the 1-2-1 notes can contain a range of information, as selected by the manager, including open objectives or development needs, competencies, absence records, disciplinary records, file notes, and more.