Consistently recruit top talent
If the quality of people you recruit is poor, then you are always going to be fighting an uphill battle to build a high-performing business. 
Despite the wealth of evidence around the benefits of a structured, criteria-based approach to interviewing, many managers are still content to rely on gut feeling and instinct when recruiting. This approach is even more risky now with the need to ensure compliance with diversity and equality legislation.
With our recruitment platform, we utilise a range of features to ensure that your recruitment team attracts the best talent available.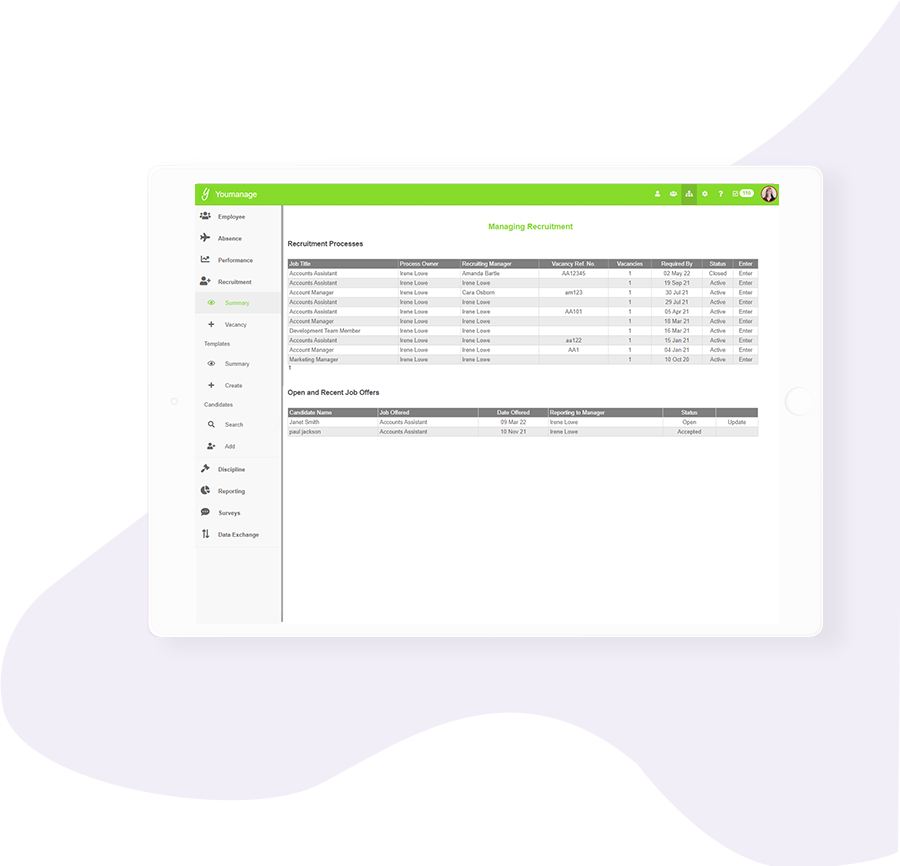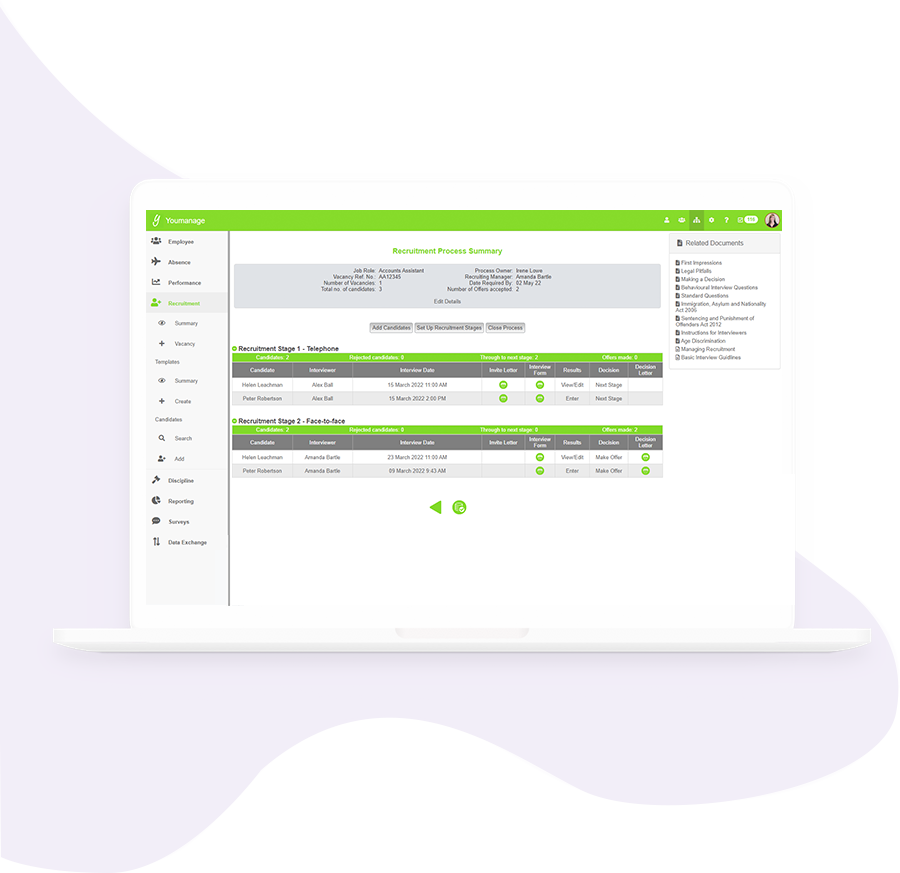 Adapt to all interview formats
At Youmanage, we offer a uniquely adaptable recruitment crm system to ensure that all styles of interview are catered for, across multiple interview rounds. While every interview is different, we provide helpful interview templates that account for each round, e.g telephone, face-to-face, testing, etc.
Interview templates can be defined for each job role and based on the job profile or competency framework and include suggested questions, criteria weightings, etc. Pre-formatted interview templates in Microsoft Word format can be easily accessed and printed by recruiting managers, saving them preparation time and improving the consistency and effectiveness of interviews.
Our recruitment system supports managers during the interview process with comprehensive guidance on interviewing techniques and relevant diversity and equality legislation.
Important information and tasks are shared between managerial staff to ensure that every recruitment is collaborative.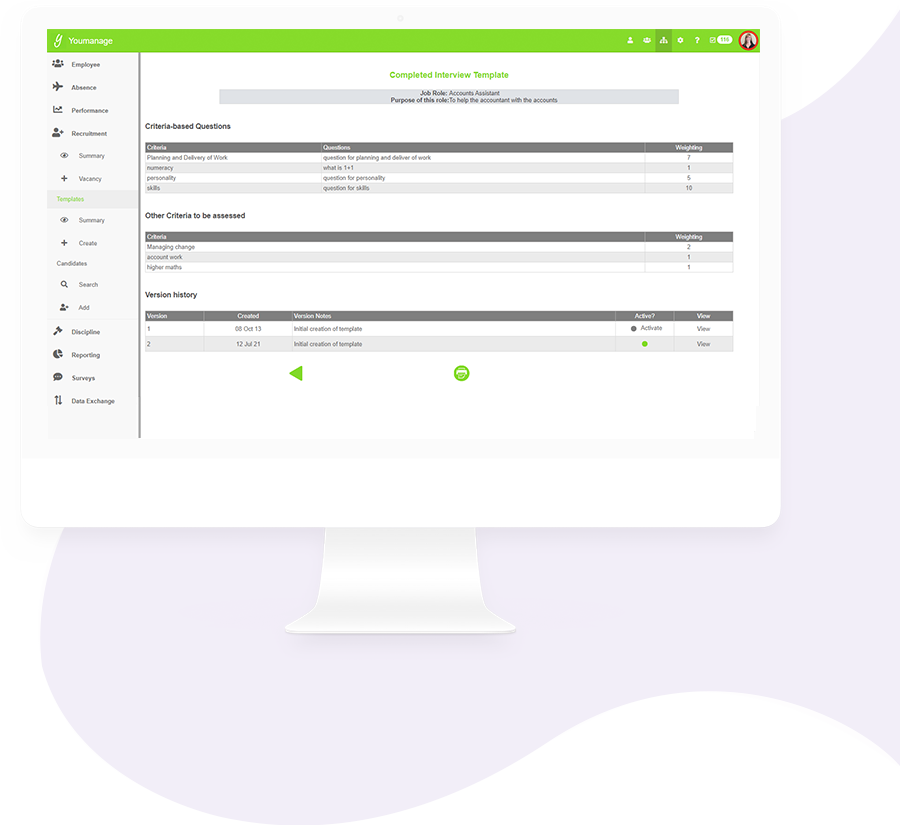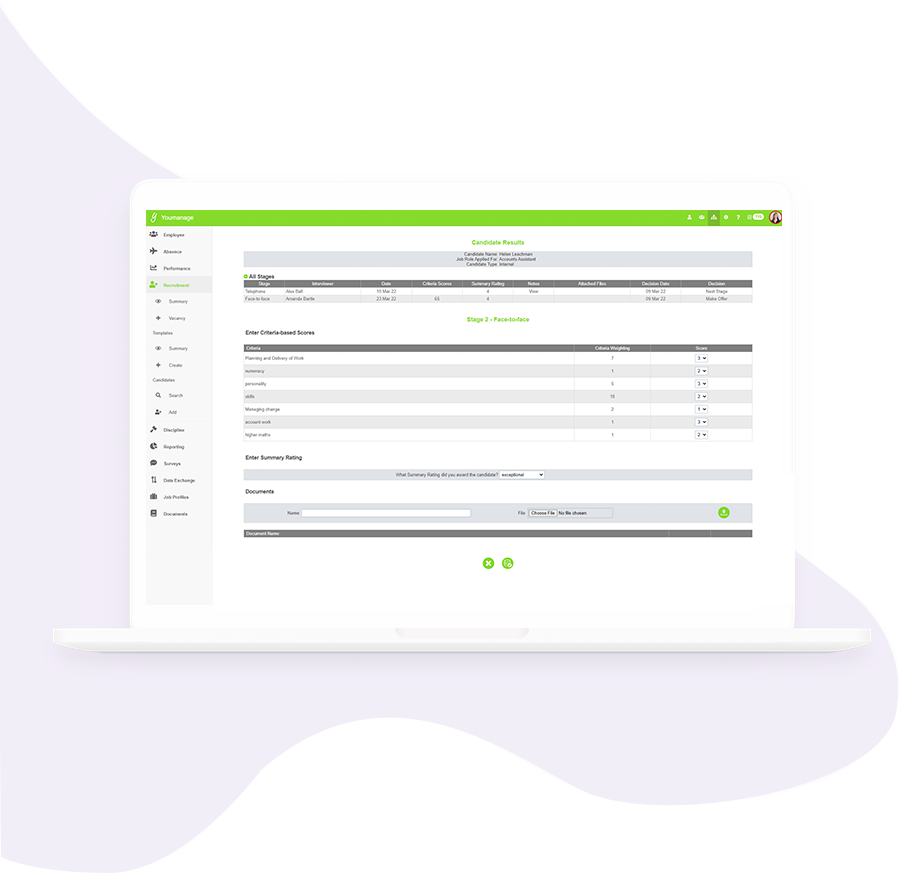 Track interviewee successes
Interview notes, scores, or assessment results can be easily captured in the Youmanage recruitment crm system to provide an auditable record of decisions in the event of a challenge by an unsuccessful candidate. Once decisions have been made, offer or rejection letters or emails can be sent for each candidate, based on client-editable templates.
Any offers can be tracked and closed, with the information captured during the recruitment process automatically transferred to the employee database for successful candidates. This then automatically feeds into the new starter process, with any data on unsuccessful candidates deleted when no longer required, ensuring compliance with data protection laws.